Pakistan
| | |
| --- | --- |
| Zeige 1 bis 1 (von insgesamt 1 Artikeln) | Seiten: 1 |
M.P.A. Chauney - PESHAWAR to CAWNPORE (Kanpur), forw. BANDY 1850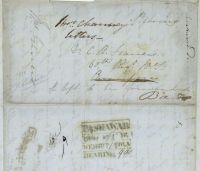 PAKISTAN - CHAUNEY, M. P. A. Probably the wife of a lieutenant of the 71st Native Infantry. Letter addressed to Dr. C. R. Francis, 60th REGIMENT N. I. at CAWNPORE (today: KANPUR, Uttar Pradesh, India), but forwarded to BANDY (or Bondee, town/village in the GONDA district, Uttar Pradesh).
PESHAWAR (Peshawur, Pashawur - town near the Khyber Pass, Pakistan), December 14th 1850. 3 pp. in-4 (but in fact 5 pp. written).
Two POSTMARKS: Giles Peshawur Nr. 5 (Bearing - type known only to him from 1851 - but our letter is of 1850!!!) - and another - hardly visible - that should be Giles CAWNPORE Nr. 13 (known to him only from 1849!!!).
Scarce letter.
Following the Second Anglo-Sikh War in 1849, Peshawar was incorporated into British India. During the Sepoy Rebellion of 1857, the 4,000 members of the native garrison were disarmed without bloodshed.
Artikel-Nr.: 2844
375,00 EUR
( inkl. MwSt. zzgl. Versandkosten )
| | |
| --- | --- |
| Zeige 1 bis 1 (von insgesamt 1 Artikeln) | Seiten: 1 |