Indien
| | |
| --- | --- |
| Zeige 1 bis 3 (von insgesamt 3 Artikeln) | Seiten: 1 |
DINAPORE (Danapur, Bihal) to CALCUTTA 1847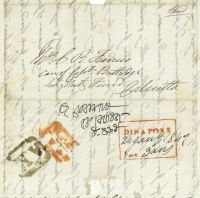 INDIA - Letter of a mother to her daughter Madeleine, Mrs. Charles R. FRANCIS, addressed to the care of Captain Buttridge, secretary of the Military Fund at CALCUTTA.
DINAPORE (today DANAPUR, Bihal, India), January 24th 1847. 4 p. in-8. Dinapore was the headquarters of one of the great military divisions of the BENGAL ARMY.
Several Postmarks: DINAPORE paid 3 Annas + two others I cannot determine + note: "Paid". Very fine letter.
Artikel-Nr.: 2842
150,00 EUR
( inkl. MwSt. zzgl. Versandkosten )
ITALIAN MAIL STEAMERS - RUBATTINO & Co. - Bombay 1873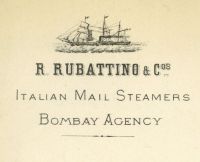 INDIA – R. RUBATTINO & COS. – ITALIAN MAIL STEAMERS – BOMBAY AGENCY – GRONDONA, C. Printed letter with autograph signature, informing that he has been appointed Agent between ITALY and BOMBAY. BOMBAY, 1st December 1873. 1 p. in-4. At the back note of receipt of GENOVA, 31st December 1873, as well as postmark GB 1F20.
Artikel-Nr.: 3034
150,00 EUR
( inkl. MwSt. zzgl. Versandkosten )
J.C. Proby - ALLAHABAD to NUSEERABAD (Nasirabad) 1837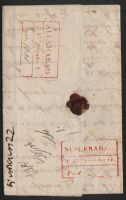 INDIA - PROBY, J. C. (to be identified with Rev. John Caryfort Proby, born ca. 1796, Military Chaplain, Bengal Army, in Meerut and Allahabad 1824-1843, later Rector of St. Peter Cheesehill, Winchester, he died in 1868).
Letter to Dr. Hezekiel CLARK at NUSEERABAD [= NASIRABAD, Rajasthan].
"On my boat near ALLAHABAD" (Uttar Pradesh), December 5th 1837. 4 p. in-4. On the address a little drawing - a little portrait!!
Two Postmarks: ALLAHABAD paid 10 Annas + NUSEERABAD. Very fine letter.
Artikel-Nr.: 2843
175,00 EUR
( inkl. MwSt. zzgl. Versandkosten )
| | |
| --- | --- |
| Zeige 1 bis 3 (von insgesamt 3 Artikeln) | Seiten: 1 |